Helmingham Hall Classic Car Festival. 7th August 2022
If you have not been before, this is something very special and not to be missed in 2022 – just click on the video link before to see last years impressive day out:
https://www.helmingham.com/wp-content/uploads/2016/04/The-Festival-of-Classic-Sports-Cars.mov
We have been invited to join the Healey Drivers Club stand at this event. It will cost £10 per car including the driver and one passenger.
For more details, or to reserve your place (and they go very very fast) Please email either:
Dave Haslam healeydriverdave@hotmail.co.uk
or Peter Cresdee peter.cresdee@btinternet.com
Held in association with the Suffolk Vehicle Enthusiasts Club (SVEC). Over 7,000 people attended the 2021 festival.
Over 1000 vehicles attend, representing the last 10 decades of motoring history, including many from Britain's motoring heyday – marques on display included Alvis, Bristol, Jensen, AC Riley, Armstong Sideley, Lea Francis, Crossley, BSA, Lagonda, Lanchester and Gordon Keeble. The oldest vehicle seen on display was a 1914 Ford Model T and the latest sports car models have included the Chevrolet Corvette and Ford Mustang's as well as Ferraris' and Porsche.
This amazing collection of vehicles is displayed against the backdrop of Helmingham Hall and its surrounding moat which sits in the middle of the ancient deer park.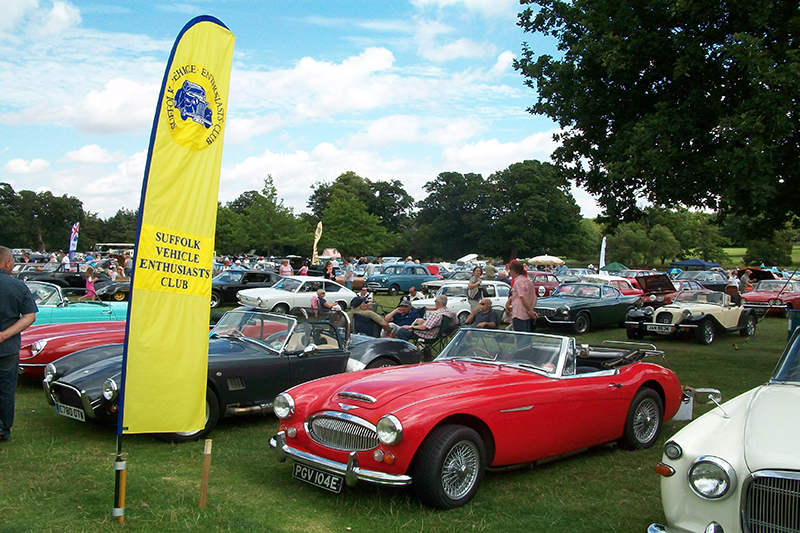 As well as this impressive display of vehicles, the festival is also a lovely day out for the whole family with children's activities, fairground stalls, over 40 craft and trade stalls, main ring entertainment, birds of prey and much more!
There will be an abundance of local food, drink and entertainment. We are excited that country music artists Jax & Co will be playing among other performers, plus Chocks Away will be dancing throughout the day showing off their skills in Jive, Swing and Lindy Hop.
Dress to Impress!
Do you own a classic vehicle and want to show how you would have dressed in that era? Then why not come along in your car wearing your vintage fashion and display all that was great from that time period. We will be running a competition for the 'best dressed' and would like to see a range of participants displaying styles from throughout the years – from demob suits, full skirts and petticoats to flares, we'd love to see you dress to impress.